Nominees- Best Original Material
18-8-15
All of the shows nominated in this category are nominated for creating brand new shows from the ground up. Making a world premiere is no easy task and new work should be celebrated. They're a little bit harder to sell, they're a little bit harder to rehearse but it's very rewarding to know you're the first one to do this production. Congrats to all artists involved with these productions; we know they must have been a challenge!
Mass disclaimer: all the photos in these nominee articles are the property of the artists who created these shows and the photographers who took them. We're writing these articles to help inform the public so they can make their decisions on the Heckler ballot. Voting will close September 4th. And don't forget the ceremony on September 7th at Orange Peel!
You can see all the nominees here. You can sign up for your ballot here. And you can sign up for the newsletter here. Newsletter subscribers will be the first ones to receive invites to the party after the nominees!
What is Sex?, Edward Lam, Edward Lam Dance Company
Based on the classic story of the Red Chamber, What is Sex?, explores people's desires and relationships with various men. An all male cast takes on the roles traditionally played by women. The definition of sex and affairs is explored. Can an affair be more than simply a matter for the body?
The Golden Lotus, George Chiang
The Golden Lotus is based on the classic Chinese story. This is the only Original Material nominee that is a musical. This musical workshopped in NYC prior to its HK debut and was praised by Stephen Sondheim. A blend of traditional Chinese costumes and Broadway style power ballads filled the stage.

The Lu Tings, Wong Kwok-kui, Theatre Horizon
This play told the story of a mermaid tribe called the Lu Tings. Neither fish nor human beings, they tried hard to survive in face of the expanding Han Chinese culture until they could not take it anymore. A massive revolt broke out, which ended in suppression and bloody massacre ― a story of great relevance for Hong Kong today.

Puss in Boots: The Panto, Teri Fitsell and Katy Forse, Hong Kong Players
Hong Kong Players annual panto took on the classic story of Puss in Boots. Filled with classic comedy, pop songs and antics; it was fun for the whole family plus the costumes and sets were beautiful!

Small Eyes for a Black Face, African Ventures, Brave Heart Theatre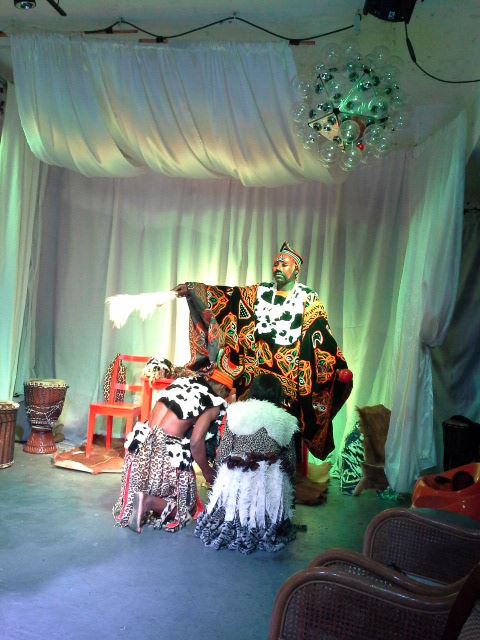 This show blended traditional African folklore with Cantonese Opera into a short 70 minute production. Created by African Ventures in partnership with Brave Heart Theatre, they hoped to educate Hong Kong on African culture and traditions.
---
Comments
No comment at the moment.
---
Post New Comment