Theatre Game of the Week #4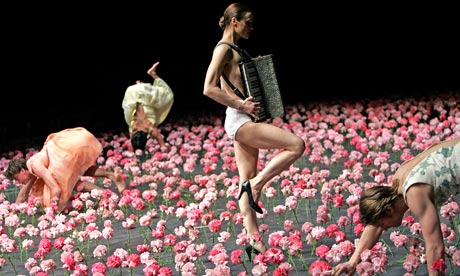 I think it's really important to learn things from your friends who are artists who are trained in different countries. You can find that there are similar games we all play that have different names and variations but are of the same root. There is a game in the US called Red Light/Green Light. We played it a lot as kids and in theatre classes used it as a basis for controlling the body from stopping and starting. In England I've heard friends refer to it as Giant's Treasure. In France it's called un, deux, tois, soleil. "A rose by any other name is just as sweet, no?" I saw a production of Carnations by Pina Bausch a few years ago where playground games were actively integrated into the choreography including this game. Theatre games can be more than a tool in the classroom but can become part of the performance.
Game Name: Giant's Treasure
Tools Needed: Students and an item to be the treasure
Kids Needed: 5+
Time Needed: 10 minutes
Teacher is the giant and stands on one side of the room. Students are on the opposite side of the room in a straight line. They are frozen. When the teacher turns his or her back they can move. When the teacher looks in their direction, they must freeze in whatever position they are. If they speak or move, they must go back to the start. This is an excellent game for rowdy students who have trouble with listening and speaking over the teacher's instructions. When a student gets the treasure without the giant seeing him and returns it to the opposite wall, he or she is the winner.
For advanced students: You can force emotions upon them as well as the frozen positions. For example, they must freeze happy. You also can make the treasure something very large where they have to work together as a team to move it back to the opposite wall so that the giant doesn't "see" them.
In the end: Students should be able to start and stop on command, identify and physically create emotions on verbal command and work together as a team.
---
Comments
ray-ban sunglasses on sale 90% off jewelry
23 August 2017

Have you ever considered about adding a little bit more than just your articles? I mean, what you say is important and all. Nevertheless just imagine if you added some great visuals or video clips to give your posts more, "pop"! Your content is excellent but with pics and video clips, this site could certainly be one of the very best in its field. Very good blog! ray-ban sunglasses on sale 90% off jewelry http://www.wwwrayben.com/ray-ban-rb8307-tech-sunglasses-gunmetal-frame-crystal-grey-p-333.html
---
Post New Comment